Yikes. I bought the dress. We picked the invitations. Now how am I going to procrastinate online?!
Oh, I know. Wedding shoes! And to make it exciting, why not look at ones I can
actually afford
? And with the 2-inch heels that my custom hem was measured for?
After some preliminary searching, I have a few observations. First, the world needs *way* more blue evening shoes. I bet tons of brides would love to have their shoes be their "something blue," but the options I've seen are less than inspiring. I do like these cute Lola heels from Annie, though, selling at Zappos.com for a mere $44.95: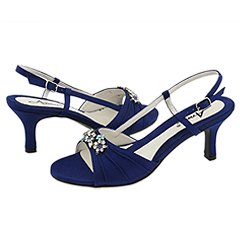 Second, make with the sturdy heels, shoe designers. I can't wear stilettos on grass. Let's see more like the Vaneli Walberte (perhaps without the slightly steep price tag of $82.95*):
Third, I've never owned a t-strap sandal before, but I've seen several pretty ones and now I'm intrigued -- they look comfortable and dancing-friendly. Perhaps the David Tate Infinity ($70) might be worth a try?

* $82.95 is not a crazy price for shoes, I realize. But remember: poor student here!