Previously: My frustrating search for shoes moved online, and I ordered two pairs, which arrived 4 and 3 days before my wedding respectively.
Contender #1: Coloriffics Knotty, sold by DSW.com. Price: $29.95 plus $15 for two-day shipping.
A little plain, but the knot in the front saves them from being totally boring. At that price, I couldn't pass up the chance that they might work. But I wasn't convinced they would. Would the heel be too high? (It's listed at 2.5", but the sites don't always get that quite right.) Would my ankles be too fat for the straps?
Contender #2: David Tate Rosette. Price: $71 plus free shipping.
Sparkly detail, sturdy 2" heel, and a lovely goldish color -- what's not to like? I'd had my eyes on these for a while. What stopped me from ordering them? The price, and my belief that I could score something great in Colorado for less. Ha, ha, ha. When the situation became desperate, these were the first shoes to hit my electronic shopping cart.
Contender #3: VANEli Modesta, sold by Nordstrom. Price: $95 plus tax.
In all my hours of shoe searching in Colorado, this was the only pair that almost became my wedding shoes. They were comfy, pretty, and even looked a bit like those
Stuart Weitzmans
that first caught my eye in Nordstrom. But alas, at $95, they were pretty spendy for me. And to make matters trickier, the store only had 1 pair of my size left, and it was clear they'd been tried on a *lot.* The soles were visibly scuffed and one heel had a nick in it. Normally I'd say "whatever" and just buy 'em, knowing I'd scuff them myself by the end of the night anyway, but I felt weird about spending so much on a pair of shoes that clearly weren't in top condition.
And the winner is ...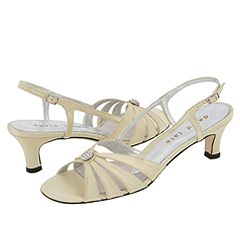 David Tate Rosette! This shoe looks so much better in person than on the website -- the champagne satin has just the right amount of shimmer, and the heel height is perfect.
I was sorely tempted by the Coloriffics, which made my feet and legs look long, slim, and sexy, but that extra 1/2 inch and the narrower heel made a huge difference in terms of how they felt on my foot. I feel like I can dance all night in the David Tates, while the Coloriffics had the balls of my feet going "ouchy!" within minutes of putting them on.
They're a hair tight across the instep, but I'm solving that by wearing them around my mom's house all day today. Next stop: pedicures!